31. 10. 2013
Seznam.cz Introduces a New Way of Presenting Full Text Search Results
Innovations Do Not Stop with Full Text Search
Seznam.cz introduces a new design for its full text search results. It is based on big screenshots of webpages arranged as a matrix. This way of presenting full text search results is for all mobile devices and is available for testing on desktop PCs by randomly chosen Seznam.cz users. Seznam.cz also enters Slovakia with this new full text search design by providing its full text search in Slovak at the domain Seznam.sk. During the autumn Seznam.cz will also introduce innovations to its services – Stream.cz, Lide.cz and Email.cz – and will introduce a number of brand new mobile applications.  
"First we want to test the revolutionary new design of full text search results. We introduced it on all searches from mobile devices in the middle of October and have started to distribute invitations to randomly drawn Seznam.cz. users. We want to see the reactions the new design raises among our users. We have also decided to provide our full text search in Slovakia at the domain Seznam.sk. The full text search results in Slovak will have a new matrix-like design as we want to see if it will be an attractive option to the monopolistic Google search in Slovakia. We want to use Slovak on-line users as a small laboratory for our newest search innovations," said Seznam.cz General Manager Pavel Zima.
Seznam.cz has decided to try out the new appearance of the full text search results based on the knowledge that the visual aspect plays an important part in our decision making. Tests have repeatedly shown that webpage screen shots help people to choose the site they want to visit faster. Therefore the new design uses big screen shots. They are also arranged in a new way. Not from top to bottom but as a matrix. The screen shots still have titles and extracts from the target webpage. Also the functions of the full text search remain unchanged. Thus a full text search by Seznam.cz still corrects typing errors, suggests terms, related searches and mini-applications that help, for example, to transfer currencies, calculate results etc. The new full text search design is responsive so it adapts to the device on which it is being used.
Together with the new design of the full text search Seznam.cz has introduced a mobile application called Seznam.cz. It is a fast and easy internet browser that will enable users to get to all Sesznam.cz services by one click on the application icon. The app has widgets that will bring, for example, the Seznam.cz weather forecast, news or e-mails to the desktop areas of the given phones. The application also uses the new full text search results design. The Seznam.cz app is ready for Android tablets and phones. The iOS version is in process.
Seznam.cz Also Improves It's Other Services
In the middle of October Seznam.cz introduced a new design for its on-line TV Stream.cz. Now it has more space for the playing videos. The new Stream.cz has no user videos, it only broadcasts shows prepared by Stream.cz for Internet use. Anyone can mark their favourite shows and will be notified when a new episode is available. The notification can be seen on any device – desktop PC, in the apps for tablets or mobile phones (both for Android and iOS operation systems).
Stream.cz is also introducing a new way of entertaining internet video consumers. Pavel Zima, the General Manager of Seznam.cz, describes the change: "We are also changing the concept of Stream.cz. We don't want it to be complicated for people to search for videos they want to watch. When someone comes to Stream.cz, their chosen episode will start playing and after it ends and an ad another show will start playing immediately. Thus you can watch a stream of videos in a row without having to do a thing. We will use our professional editors to prepare the dramaturgy to entertain our viewers with an endless stream of videos."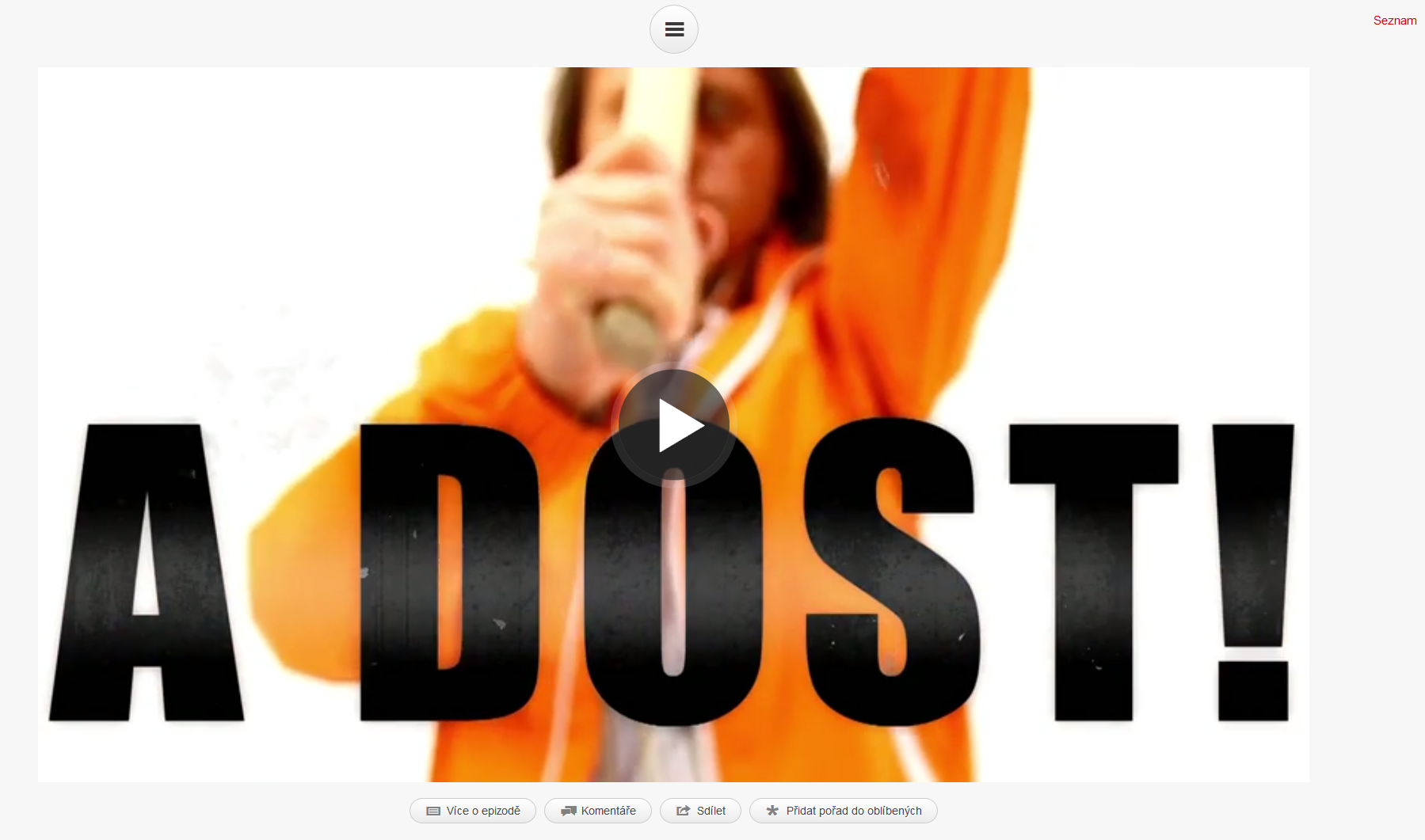 Seznam.cz's free mail (the biggest in the Czech Republic) is going to have a new optional skin reminiscent of a paper version of an email. It is particularly for those who want to use just the simple e-mail functions. This new skin will enable you only to write and reply to e-mails and sort them into folders. Its main benefit is the way it works with attachments. You can see them directly from the inbox, you don't need to open them separately, just scroll down your mail box and the attachment opens. If you receive a picture that is upside down simply turn it around in your mailbox by one simple click. Seznam.cz Email will also have its mobile app.
Seznam.cz will also change its Lide.cz service into a real dating website. It will be a very simple one based on pictures of people. Those looking for a date will simply choose the ones they want to send private messages to. They will only be able to do this after the other one approves. A mobile application will be ready for these private conversations and easy photo uploads in the autumn of 2013. And the desktop version of Lide.cz will be fully responsive.
Seznam.cz plans to introduce many new applications by the end of the year. Seznam.cz has a very successful Map application Mapy.cz. It is now available for Android and iOS operation systems with vector offline data of the whole Czech Republic. Seznam.cz has decided not only to make all of its services responsive but for those who prefer apps Seznam.cz wants to have a mobile app for most of its biggest services. Thus it has already introduced a new Android app for its used-goods-sale website Sbazar.cz. It will help those who want to place an ad on www.sbazar.cz do so easily and directly from their phones. All the new services will have their mobile aps as described above in the autumn. Plus Seznam.cz is planning to have new apps for its news portals. Seznam.cz plans to have a mobile app for the sports news from Sport.cz and tabloid info from Super.cz. It is also working on an app for the yellow-pages site Firmy.cz to provide easy contacts to the businesses and services in the area where people are looking for them.
Irena Zatloukalová
(
@izatlouk
),
Spokesperson, Seznam.cz