5. 11. 2014
Visually Impaired Visitors to the Czech Republic Can Print a Map of Any Corner of the Country

At this year's World Travel Market in London, Seznam.cz, the largest Czech internet company, introduces Haptic Maps of the Czech Republic aimed at the visually impaired. This revolutionary achievement is available exploited for visitors to the Czech Republic too.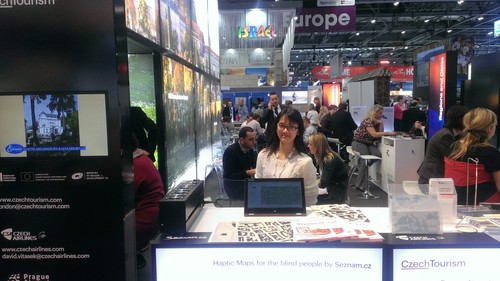 Haptic Maps prepared by Seznam.cz help the blind and visually impaired. Ordinary foundation maps are automatically prepared so that they can be easily read through touch after being printed on microcapsule paper. Until now, the production of tactile maps has been time consuming and required a substantial amount of manual work. The Haptic Maps by Seznam.cz use a specific map key that generates black and white maps. After being printed on a special paper and after use of a device called a fuser, these maps swell so that they are readable through touch. Since spring, the maps have been available on a specialized webpage hapticke.mapy.cz, which is optimized for printing and completion of individual printed map sheets.
Seznam.cz cooperated on the tactile maps project with two universities: Teiresias Centre at Masaryk University in Brno and The Elsa Centre at Czech Technical University in Prague. For the project, Seznam.cz provided data and designed the technologies; university departments fine-tuned in practice the shape of the maps, i.e. map key, density and placement of elements on maps. //
"We have been paying close attention to accessibility of our web services for the past ten years. We cooperate with different associations which help us detect problem areas in the usability of our services, for example for the visually impaired. I believe that our Haptic Maps will make happy not only us but importantly the public," said Pavel Zima, the general manager of Seznam.cz, the number one Czech internet company comprising of the family of services including everything from full text search, news service and map server to the goods catalogue.
You can find the tactile maps available at hapticke.mapy.cz as well as Seznam.cz at this year's WTM at Czech Tourism exhibition stand in Europe hall. We proudly show how easy it is to use hapticke.mapy.cz on Yoga Tablet with kind help of Lenovo.


Irena