9. 10. 2018
Case study: Combined advertising with native ads
Terezia Company, in cooperation with Taste Sun, tested the combined format during beta testing and later expanded it to other content campaigns. Natively written advertisements have been styled to pique readers' curiosity about oyster mushrooms. The ads referred to a blog with content about the mushroom's positive impact on human health.
What Taste Sun did
The agency deployed a suitable image without any client branding or logo and filled the text boxes with natively written headlines and captions.
The aim was to reach new customers and introduce them to oyster mushrooms through education. The targeting of the ads was not on specific products, but on an article about oyster mushrooms.
For this reason, the audience that has visited the client's website in the past was excluded.
Taste Sun has set several native ads for the new campaign to optimize them quickly and efficiently. By choosing to target on a bundle of well-chosen keywords, the content network was able to reach a narrow audience on relevant sites, such as bylinkovo.cz, vitalion.cz, bylinkopedie.cz. The ads were shown to people interested in health.
For example, the ads were shown in this format: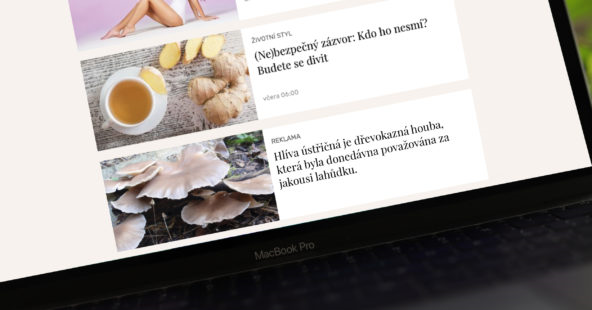 With the new targeting, the agency also selected a retargeting audience of people who had already read the article. Its goal was to reach relevant audiences, e.g. through product banners.
Results of native ads
The new type of advertisements, which the client decided to test, was aimed at reaching new relevant users and raising awareness of the oyster mushroom product and the Terezia Company brand.
We compared the performance of native ad format campaigns to those with text ads on the content network. The compared campaigns were aimed at selecting keywords relevant to the topic of oyster mushroom supplements and interest targeting was deployed at the same time.
In the monitored period from 1 August 2018 to 31 August 2018, campaigns with natively written ads produced the following results:
+ 310% CTR compared to similar targeting of text ads
+ 255% New users brought to the website
– 37% Lower CPC for native ads
Last but not least, we managed to expand our advertising reach to dozens of new relevant sites.
The data has been compared to a campaign with the same number of impressions and the same type of targeting but with text ads.
Tips for combined advertising with native ads
For better results, use interest- and purchase-targeted ads, keywords, and placements
Direct native advertisements to a blog or articles about your product or service, not to the product itself
Test not only the copy of the ads, but also the images in the ads
Use numbers, percentages, and question marks to grab readers' attention
Be sure to exclude existing users and customers from your acquisition campaigns
"We have been working with Taste Sun since 2012. Thanks to their proactivity, we are able to keep pace with online marketing and the deployment of new formats, optimize PPC campaigns to improve our Return on Ad Spend and increase brand awareness." Michal Krejčí, Marketing and Sales Director Terezia Company.
About Terezia Company
A Czech family business with a history of 27 years that develops, produces and distributes natural food supplements.
The basic philosophy of the company is to offer products in the most natural and purest form possible. They work without additives and use only whole mushrooms (oyster mushrooms, lion's mane, shiitake, shaggy mane, reishi mushroom). Terezia Company products differ from the competition mainly by the purity of processing and certified production.
About Taste Sun
Terezia Company campaigns have been managed by Sklik-certified agency Taste Sun since 2012.
Taste Sun is a Czech digital agency that caters to online marketing needs of smaller businesses as well as large companies. Their services include planning, setting up and optimizing campaigns in PPC systems, creating content on social networks, optimizing websites, analyzing client data, helping with UX and preparing interactive trainings. In 2017, Taste Sun became part of the Taste group, which uses a cross-channel approach to achieve client goals.
About combined advertising
Combined advertising is a new type of text ad on the Sklik content network. It consists of three text boxed combined with two images, the advertiser's name with the possibility of displaying the company logo.
Sklik always shows the combination of text boxes and images that best fits the ad unit for maximum campaign performance.
The undeniable advantage of combined advertising is the higher CTR (due to quality images) and the potential for creating a native ad.
About native ads
Native advertising is a type of paid online advertising that aims not to disrupt the experience of a site visitor. In form and function, it fits into the content of the website.
A native ad cannot have the form of a banner because it is in an environment where people expect content. A survey by the Native Advertising Institute clearly shows that users find native ads more interesting and relevant than conventional ads. Advertisers know this too and allocate increasingly higher spend from their marketing budgets to this type of advertising.
For the Sklik team, Tomáš Hanzlík, Performance Advertising Consultant, and Lucie Suchopárova, Senior PA Specialist, Taste Sun.