15. 11. 2019
Poll: What did industry authorities tell us about video advertising? Part One
Online video advertising is gaining traction as an advertising format and more and more businesses are warming up to it. We asked several experts how to use video advertising for the most benefit, what to watch out for which metrics to use for evaluation. Read the first part of their answers.
Seznam polled the following industry experts:
Michael Barták – Digital Marketing Communication Manager – Vodafone
Petr Daneš – Video Advertising Manager – Seznam.cz
Magdaléna Lásková – Head of Research – OmnicomMediaGroup
Peter Mižík – Digital Media Strategist – Wavemaker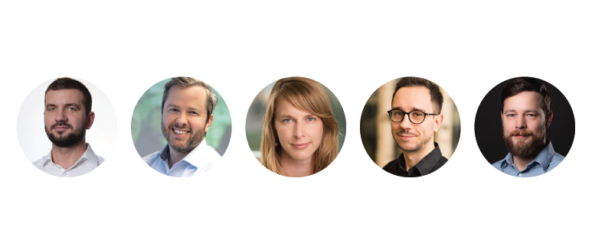 Ondřej Sláma – Research & Development Director – Adexpres
Video advertising is most often used to build brand / product awareness. Do you see other opportunities throughout the consumer's shopping journey? Can you give us a good example you have seen in real life?
Michael Barták: While we, too, use video primarily for building brand awareness, we certainly use it for other purposes as well. We have, for example, formats for purely tactical communication (a six-second bumper works best for us here), formats for engagement (e.g. Instagram Stories) or videos for downloading of our mobile application.
Petr Daneš: Definitely. Especially for advertisers who do not have huge advertising budgets but still need their brand or product to be known throughout the country. They can present and sell their product as part of a creative idea with a clear call to action. At Seznam, we have many clients who advertise in this way – they can use not only data on the interests of our users, but also purchasing interest for the given product category and possibly retargeting with a more affordable bumper for the very final phase of the purchasing process.
Magdaléna Lásková: I certainly see an opportunity not only in building awareness, but also in working with deeper brand attributes, such as a change in brand perception, which can contribute to the consideration of a given brand or its acquisition. Here, I would compare the situation to television advertising, whose role is also not limited to building awareness. Unlike television, an online campaign can generate conversions that are clearly measurable. Take application download campaigns, for example. Now I'm probably thinking of the successful Grammarly campaign, which I assume we all know in and out.
Peter Mižík: Yes, for example, by using data on existing customers / visitors to the website, it is possible to optimize the video ad for conversions. This means that targeting plays a big role in this case. And, of course, for advertising to work, the message needs to be tailored to motivate purchases and not be too general or "image-y." A good example would be Vodafone's video ad which communicates a smartphone offer for loyal customers. My favourite international example is the 6-second hard sell campaign by Myer.
Ondřej Sláma: Services and products which are distributed on digitally are, of course, the prime contender for video advertising. They naturally lend themselves to presentation through video which at the same time builds interest, which can be immediately bumped and can easily end in a transaction. The MasterClass series of courses on Facebook, for example, does this very well. The video introduces a personality, a professional in the field, who speaks directly to us, always sells in their own special way and a call to action follows not long after.