25. 1.
Case study: MujKoberec.cz – testing video advertising and new metrics
Wondering how to get attention? The answer is: video advertising. With our long-term client MujKoberec.cz, we tested video advertising in our agency PLACEMENT.cz. We added a new format to our family of native content formats which we expect to attract new customers and, as part of the beta test, we gained access to previously unpublished metrics. Let's take a look at the interesting results of our video advertising test!
PLACEMENT.cz: We are senior PPC advertising specialists
We have been focusing solely on PPC advertising on Google Ads, Sklik and Facebook since 2010. We are different, offering a tailored solution and cutting our ads to measure for our clients. For us, the client comes first. We are a business, we move and shake, and we use budgets as carefully as if the money was our own – we invest it only when it makes sense.
MujKoberec.cz – e-shop with unique benefits
With its ALL INCLUSIVE benefits, MujKoberec.cz carpet store decided to challenge the established standards to which customers are accustomed from other sellers of carpets, runners, mats and PVC. The unique ALL INCLUSIVE benefits include, for example, free shipping and returns, 365-day returns, carpet samples, free extended warranty on all products, free 3D visualization, custom carpets, payment after delivery and a whole range of other services that are not automatic with other sellers.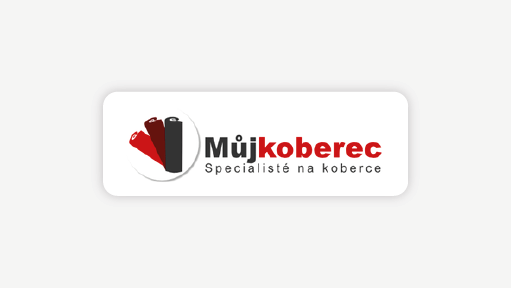 Sklik video ads
The Sklik advertising system allows video ads as one of the formats in the content network. A video ad is a short-form video (7 to 60 seconds, while after 5 seconds the user has the option to skip the video) or a bumper (6 seconds non-skippable). The payment model for this format is CPT and it is possible to choose between the Instream and Outstream option.
Video advertising strategy and settings
It was an easy decision to try a video campaign. We have a solid track record of active native content formats for our client MujKoberec.cz, and we simply wanted to try something new. The advertising budget was permitting, so we opted for the video format to reach a new audience.
MujKoberec.cz gave us two videos. One was short and the other longer. In Sklik, we set several new acquisition and retargeting campaigns to run in the period 13–26 August. We worked with Instream and Outstream video ads. The video campaigns were supported with banners to address users who were directed to the MujKoberec.cz website by a video ad. We collected the audience using the UTM parameter in Sklik.
As for setting up campaigns, we decided not to run our ads all day. Instead, we limited the delivery time and the frequency of display. The pre-planned budget for the campaign guided us through these steps, and we allocated it primarily on the basis of historical data for the hours when the largest number of purchases take place at the e-shop. And, as you already know, we also had the opportunity to try out the new metrics in Sklik. For the subsequent evaluation of video campaign performance, we've added additional columns: Watch time, Views, View rate, Average Cost-Per-View, and Skip Rate.
What did the new Sklik metrics show us?
The video ad reached a total of 201,748 unique users in a fortnight, plus a pool of new users who have not seen the ad, of whom there were 16,548. On average, each video campaign was shown to a unique user twice, which we saw in the new Impression Frequency column. The video ad also generated several conversions.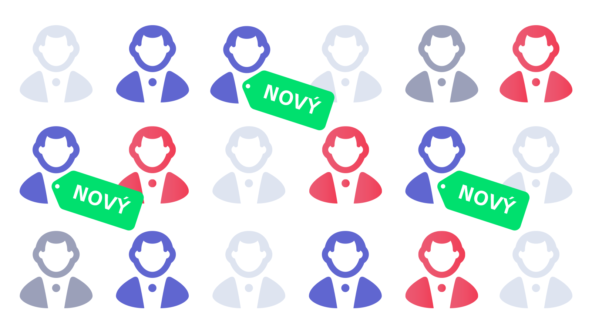 Video ad performance in Google Analytics
In terms of clicks and impressions, we came up with some interesting numbers. Brand search increased from 1,043 clicks to 3,934 clicks year-on-year. The number of impressions increased from 1,800 to 6,256. In fact, the numbers increased almost fourfold in clicks and 3.5 times in searches of brand terms. The data was pooled from various advertising systems.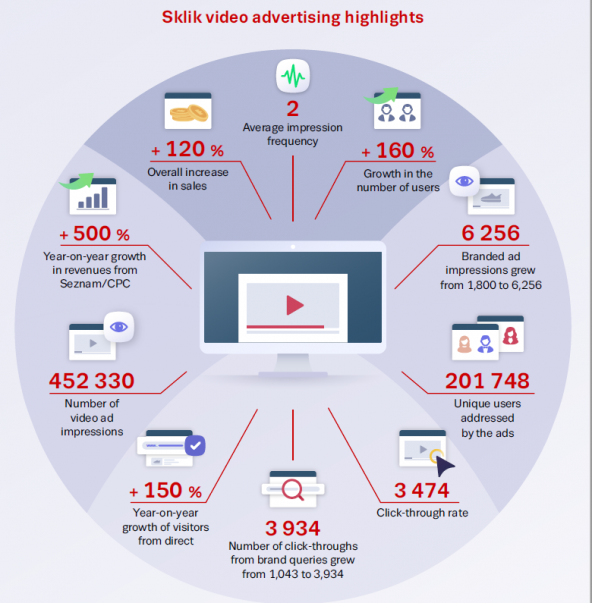 Added value
Year-on-year sales growth from the "Seznam / CPC" source was approximately 500% higher. This was one of the largest increases overall.
Year-on-year growth in direct traffic 150%
Increase in sales by 120%
160% increase in users
Optimization and evaluation of video advertising as seen by PLACEMENT.cz
Sklik video is not clear-cut performance, but it is very visual. The benefit of a video campaign in Sklik – compared with the results in the PPC system Google Ads – is a higher impression rate on the most popular Czech websites with editorial content.
When setting up the campaigns, we defined the targeting. For acquisition, we preferred broader interests and interest in the purchases where we saw a potential for reaching the viable target group. We optimized your campaigns on a regular basis and adjusted your pay-per-thousand impressions (CPT), impression frequency, budgets, interest types, and purchase interests.
The case study was written by PLACEMENT.cz and Jan Řičánek, Seznam.cz