Seznam helps your brand grow stronger
Brand and performance campaigns have their deserved place in every media mix. While it is true that it is easy to see the results in performance campaigns directly, building a brand also makes sense. Although the results may not be fully realized in the medium term, the effectiveness of these campaigns can also be measured and proved in the long term.
You just need to follow the right metrics. For brand campaigns, a frequent goal is to address the entire category for a given brand. That's why we monitor the impact and frequency of advertising, so that we can then measure its effectiveness through research. We mainly monitor brand awareness and association. For new products, we can also monitor signals such as a rise in the frequency of searches or increases in organic website traffic.
Long term research shows that campaigns that combine brand and performance advertising show the highest return on marketing activities, and it is the combination of both types of campaigns that brings the highest return on investment in the long run.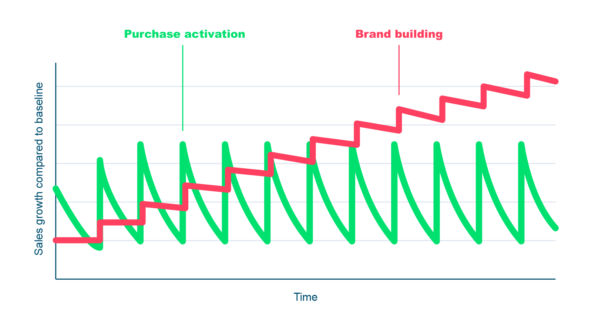 *Source: Les Binet, Peter Field, Media in Focus: Marketing Effectiveness in the Digital Era, IPA
Sklik now helps you evaluate brand campaigns too!
Did you know that you can now also use Sklik to build your brand? At the beginning of October, we introduced 4 new metrics, which now allow you to better set up, optimize, and evaluate your display campaigns. So, with conventional campaigns focused on short-term performance and the greatest possible emphasis on the number of conversions, now in Sklik you can better see which part of the target group you managed to reach, how many unique users saw your message and how many times.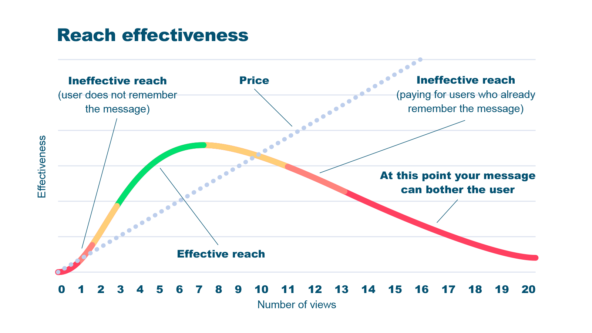 Under what circumstances will the new metrics be useful to you?
When working with banner or video ads
When you can define your target group or when you target broad audiences
When you are not primarily concerned with immediate performance and you care about building awareness of your brand
We will show your brand in the most original light
You may already know our product Seznam Native – content created in Seznam in cooperation with the client. This is visually attractive content, such as an article which, thanks to quality information and visuals, will capture the attention of the reader much more than, for example, a regular banner. The reader spends over 8 minutes on average with the content of Seznam Native. One such article can reach hundreds of thousands of unique readers.
As part of our standing campaign to raise the bar for commercial content, we launched the new Seznam Brand Studio in September. In addition to products such as the very popular Seznam Native, we want to create more audio and video content, as well as events and various non-standard client collaborations. Our mission is to connect all our audiences with brands through attractive content.
That this makes sense is also proven by successful projects by major foreign media, e.g. BBCStoryWorks, CNN Create or TBrandStudio.
Massive impact of content collaboration
As many as 8 million online users per month use the services and pages in the Seznam network. On top of this, there are 2.2 million unique television viewers, 350,000 readers of weekly print supplements and, according to our data, over 200,000 radio listeners per week on the various platforms.
That's quite a number of people coming to our websites for quality content, and that's why we create content with clients that is not primarily commercial, so that people can consume it more organically and give it more of their time, which naturally strengthens brand awareness. The content can appear on a variety of websites depending on the focus of your brand and the theme you choose: Novinky.cz, SeznamZprávy.cz, Super.cz, Sport.cz, Proženy.cz and Garáž.cz. We also have the right platform for content collaboration videos: Televizeseznam.cz, the most popular online television.
A final tip: To maximize the reach of your campaigns, try using our great Seznam Reach Video ad bundles. The bundle combines both instream and outstream and Seznam Brand Video, which is especially suitable for brand building as it combines outstream and a 30-second non-skippable video.